Gaming PCs are expensive.
There's no 2 ways about it. Even if you're looking to buy one on Facebook Marketplace or eBay. 
And if you're buying from a trusted company, prepare to spend too much on a PC that won't perform well enough. 
That's why we founded Bedrock Computers – because we want to make PC Gaming more affordable, without compromise on power, looks, or the service & support you'll get.
* Just some of the games we run to test our computers
PUBG - FPS graphics presets
PUBG - FPS graphics presets
Experience smooth gameplay at high graphics settings, for much less. Each Bedrock PC is meticulously tested, and made from high quality components with reputable brands – we guarantee you'll get the performance you want
We exist to protect the
Environment
through tech recycling & responsible manufacturing.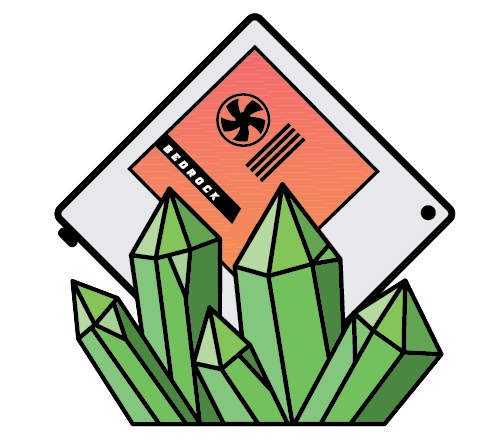 Well, why are we so green?
Here are the steps we take to reduce our carbon and waste impact
Carbon Neutral Shipping
We use UPS & DPD carbon neutral shipping labels for all PC and Monitor deliveries, making a difference 1 PC at a time.
>80% Recycled Parts
The vast majority of the parts in your Bedrock PC are pre-existing high-end gaming parts. We refurbish these - making sure good parts don't go to waste
Plastic Free Packaging
All our packaging is paper / cardboard based. Any bubble wrap packaging is reused. We have sourced biodegradable air cushions and peanuts to ensure we leave no trace
Near-Zero Landfill
We scrap old PC cases for recycling, and send components we can't use to specialist partners for rare earth metal and Gold recovery.
A few words from the owner, Charlie
Hi there! Firstly, thank you for getting up to this point, and taking the time to read this.
I graduated from the University of Bristol in 2021 studying Geology – hence the rocky theme to my website. And, over the past year and a half, me and my company have built over 950 gaming computers for many happy customers. I found that that there are lots of you out there who just want a well built and reliable computer, that is above all, affordable and performs well in a range of games for top value. If you're environmentally aware, Bedrock Computers is where you should look for your next PC – we don't buy or manufacture any new electrical hardware!
Our computers typically start at only £200, which performs similarly to a 1st generation Xbox One or PS4, and go all the way up to beastly systems, with no compromises at 1080p/1440p in any game. These computers are a great balance between "brand new", overpriced and underpowered systems, and are also much better than dusty, questionable used listings on eBay and Facebook Marketplace. In essence, this is a great way to get your foot in the door with PC gaming, or if you're looking for an affordable upgrade. I've learnt a lot in my time in this industry, so you're certainly in the right hands should you have any questions.
With excellent prices (you won't find better elsewhere), a 1 Year Warranty as standard, and premium service & quality, it's hard to understand why you'd shop elsewhere. Give back to the environment, and avoid buying into the new tech manufacturing loop. Thank you for your interest in owning a Bedrock PC.
~ Charlie
Numbers Speak For Themselves
Star Rating Across Platforms
Average Recycled Components
We've grown, and now have 4 part time system builders. Hear what our technician Jack has to say:
Over the past year, I've been giving guidance on troubleshooting & professionally testing systems. I have also helped implement new ways to improve every aspect of the Bedrock Computers building process, to ensure smooth, reliable gaming.
Fully tested & benchmarked
All our computers are stress tested under gaming conditions to ensure you'll get consistent performance at home. A 1 Year Warranty is now free with your Bedrock PC. You really can't get much better than that...

Hand Built & British Made